Eufaula Personal Injury Lawyer
When someone else injures your body, mind, or emotions, it's considered a personal injury, and it can be devastating. 
When this happens, you may be struggling with medical bills, lost wages, a damaged reputation, and the pain and suffering of your injuries. The last thing you need is the added stress of working to get the compensation you deserve on your own.
That's where a Eufaula personal injury lawyer comes in. At Foundation Law Firm, Wesley J. Cherry is ready to represent you in your personal injury case and get you the compensation you need and deserve.
Mr. Cherry has been handling personal injury cases for almost a decade. He knows the ins and outs of the legal system, and he knows how to get results for his clients. If you've been injured in an accident, don't try to go it alone. Let Mr. Cherry fight for you.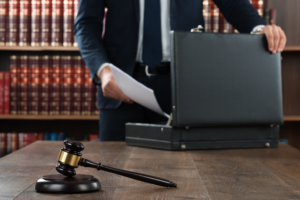 How a Eufaula Personal Injury Lawyer Can Help You
There are many different types of personal injury cases, but they all have one thing in common: They are caused by the negligence or recklessness of another person. When someone else's careless actions cause you harm, you have a right to seek compensation for your damages.
These damages can include your medical bills, lost wages, pain and suffering, and more.
However, getting that compensation is not always easy, as the other party will generally do everything they can to minimize the amount they have to pay you. And if your case goes to court, they will have lawyers working hard to defeat your claim.
You need an experienced personal injury lawyer on your side to level the playing field and navigate the complicated world of law for you. Mr. Cherry has helped countless clients get the compensation they need and deserve after being injured in an accident. He will fight for you, too.
When You Need to Contact a Eufaula Personal Injury Lawyer
If you've been physically, mentally, or emotionally injured by a company or individual, you may be wondering if you need to hire a lawyer. The answer is not always clear-cut, as every case is different. However, there are certain circumstances when it makes sense to seek legal counsel.
For example, if your injuries are severe and will require ongoing medical treatment or leave you with a permanent disability, you will likely need to file a personal injury lawsuit to get the compensation you deserve.
In addition, if the other party is refusing to pay the compensation you are owed, or if their company insurance or auto insurance is making lowball settlement offers, it's time to contact a personal injury lawyer.
Finally, if you are not sure whether you have a case or what your next steps should be, it's always best to consult with a lawyer who can evaluate your situation and advise you on the best course of action.
If any of these circumstances describe you, Wesley J. Cherry is ready to help you with your personal injury case. Contact him today to get started.